Authentic Relating- Embodiment Edition
If our lived experience happens through the body, then so does how we relate to ourselves, others and our environment. 
In this training we will delve into the infinite world of embodiment- of feeling deeply, moving freely and expressing openly. 
Authentic Relating- Embodiment Edition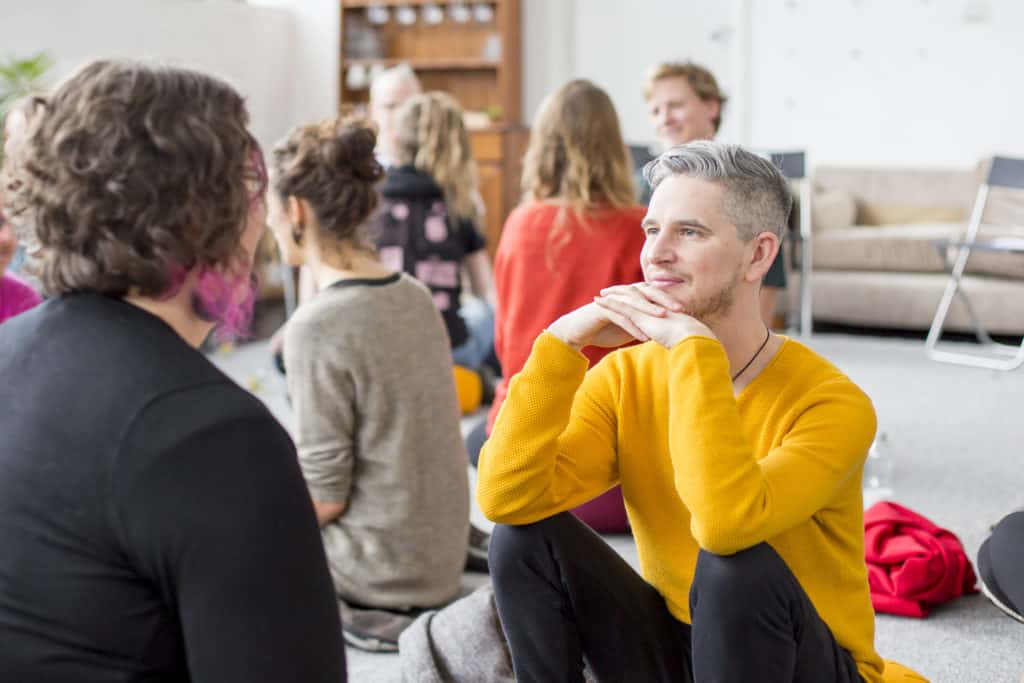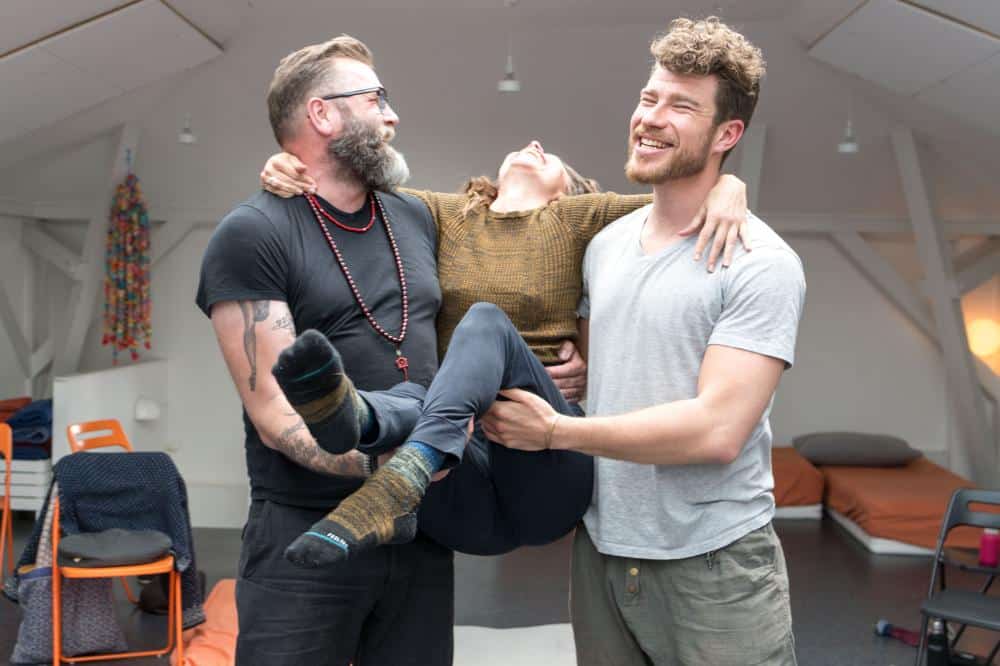 Level 1 Course Description
Our flagship authentic relating course has introduced the foundational tools and skills of this life changing practice to thousands of people around the world. The course is designed to make the learning of authentic relating as accessible, adoptable, practical, and engaging as possible, so that graduates can apply their new skills to their lives right away with immediate results.
We've designed this course to give you the experience of profound connection, intimacy, trust, and aliveness with anyone you want, anytime, anywhere – all within just two days (or six weeks for our online course). The tools and skills we teach work across all social contexts, from the workplace to the living room, from strangers to partners and everyone in between.
Our experienced Course Leaders expertly guide you through a curriculum that strongly emphasizes embodied and experiential learning. This is not a lecture or seminar – it is a deep dive full-immersion training that will leave you enlivened, heart and mind-opened, and deeply connected to yourself and others.
We've delivered the same Level 1 Course to spiritual seekers in Bali, jail inmates in Colorado, executives in New York City, and men and women from all across the social, cultural, economic, and political spectrum, of all ages and nationalities, in almost 50 locations on four continents. Universally, participants report profound and lasting transformation in all aspects of their lives. The course speaks in the shared language of human connection, and is designed specifically to include everyone in the practice of Authentic Relating, no matter what path they've traveled in life.
We believe that we all have the capacity to be bridges – between parts of ourselves, ourselves with others, and together with the world. The course's mission is to build bridges, and use our bridges to heal, connect, and co-create a more enlivened, awakened world – together.
Authentic Relating Embodiment Edition - Course Description
If our lived experience happens through the body, then so does how we relate to ourselves, others and our environment. In this training we will delve into the infinite world of embodiment- of feeling deeply, moving freely and expressing openly. This course is for those who want depth, intimacy and aliveness in their relationships with themselves, others and the world. Each session will include an embodied meditation, movement explorations and of course, the heart of the ART material. 
Why: Embodied Authentic Relating? 
Because, authenticity (truth, wisdom, intuition) lives in the body. Relationship happens, body to body (as a meeting through our senses that all live in the body). We express through the body. Our gesture, posture, movement and tone amount to more than 80% of our communication, most of which is not in our conscious awareness. So if we want to be more real, more ourselves in relationship, if we want to learn to understand what others are sharing with us, and if we want to better understand what we are communicating versus what we want to be communicating- then it all begins with entering the landscape of the body.
How: A Reclamation of Presence
Resourcing and Anchoring- establishing inner and outer support to create a sense of safety for yourself (and others) so you can stay in your body and in the experience of the moment
Sensing- Remembering the language of the senses
Feeling- Staying with the freshly forming felt sense, tracking its movement within the body
Action- Moving authentic impulse out into the world through aligned action (could be in conversation with another etc)
How is this different from a "Regular" Authentic Relating Training?  More movement, more conversation around non-verbal communication, and emphasizing the body's expression as the authentic self.
As a graduate of the ART Level 1 course, you will leave with:
The ability to engage in deep, meaningful, soulful conversations with anyone, anytime, anywhere
A powerful language and skill-set to accurately and transparently express your authentic experience in real time, and to invite others to do the same
The awareness to identify your true, core desires, and the ability to articulate them to others
A profound understanding of the dignity of speaking your authentic voice, and the humility of using your eyes and ears to pay attention to – and learn from – the people and world around you
The ability to see and reflect the essential being in others, and to gently guide them into a space in which they can be fully, wholly themselves – one of the greatest gifts we can offer each other
A complete set of powerful tools to de-escalate conflict and to use conflict as a vehicle leading to deeper connection, understanding, and empathy
A restored connection to childlike genuine curiosity, and a perspective that regards the world with awe and wonder
The ability to set powerful context at both the personal and collective levels, and a clear understanding of how influential context is in informing our experience of life
An experience of profoundly vulnerable, intimate, beautiful connections with other participants that will leave you inspired, delighted, and heart-opened
Using Zoom as our online workshop platform, highly trained and experienced course facilitators guide you through a thoroughly tested and proven sequence of exercises designed to teach you the most powerful tools to create and deepen connection, with facilitated group conversation after each exercise to ensure maximum learning. We've constructed the exercises to ensure that the foundational skills of authentic relating are most efficiently and effectively absorbed by participants, no matter their level of prior experience or training. The Level 1 Online course includes:
Six 3-hour sessions once per week for six weeks in a row

Access to ART's authentic relating and relationship Resource Library


Multiple time zones to accommodate all geographic locations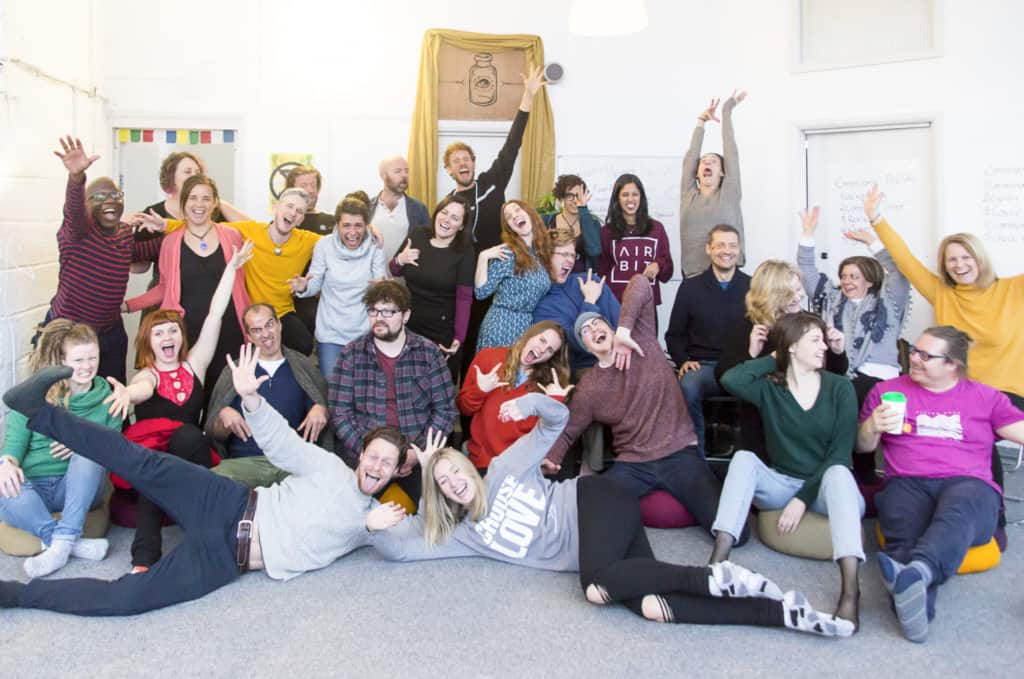 ART LEVEL 1 ONLINE - EMBODIMENT EDITION - DATES
START DATE: February 13, 2023 (6 weeks/6 sessions)
Course Schedule: Mondays, 10am – 1pm Central European Time / 5pm – 8pm Central Indonesian Time
Session Dates: February 13, 20, 27 March 6, 13, 20
Course Leader: Vix Anderton
***Course sold out*** If you would like to join the waitlist, you can do so here.
START DATE: April 19/20, 2023 (6 weeks/6 sessions)
Course Schedule: Wednesdays, 5pm – 8pm US Pacific Daylight Time // Thursdays, 8am – 11am Central Indonesian Time / 10am – 1pm Australian Eastern Standard Time

The Americas Session Dates: April 19, 26, May 3, 10, 17, 24
Asia/Australasian Session Dates: April 20, 27, May 4, 11, 18, 25

Course Leader: Vix Anderton
ART LEVEL 1 IN-PERSON COURSE - EMBODIMENT EDITION - DATES
Encinitas, California – February 18 & 19


Course Leader: Kate Middleton
Location: TBC
Level 1 – Embodiment Edition
$395.00
IMPORTANT NOTE: All payments are processed in USD. Local currencies are listed for reference, based on exchange rates at the time the course was posted.
Additional information
| | |
| --- | --- |
| Location & Date | Online, Monday – February 13 – CET/CIT ($395 USD), Online, Wed/Thurs – April 19/20 – PT/CIT ($395 USD), Encinitas February 18 & 19 ($395 USD) |
Inspired by this work? Imagine offering it to people living in the shadows of society: in prison. Help break the cycle of incarceration and decrease violence both inside and outside of prison by making a tax-deductible donation to the Realness Project, whose mission is to transform the culture of incarceration through human connection.