LEVEL 4: FACILITATOR CERTIFICATION
Certified Facilitator Program
A World-Class Training Program for Authentic Relating Leaders and Facilitators
Next Level 4 Training Begins Oct 30th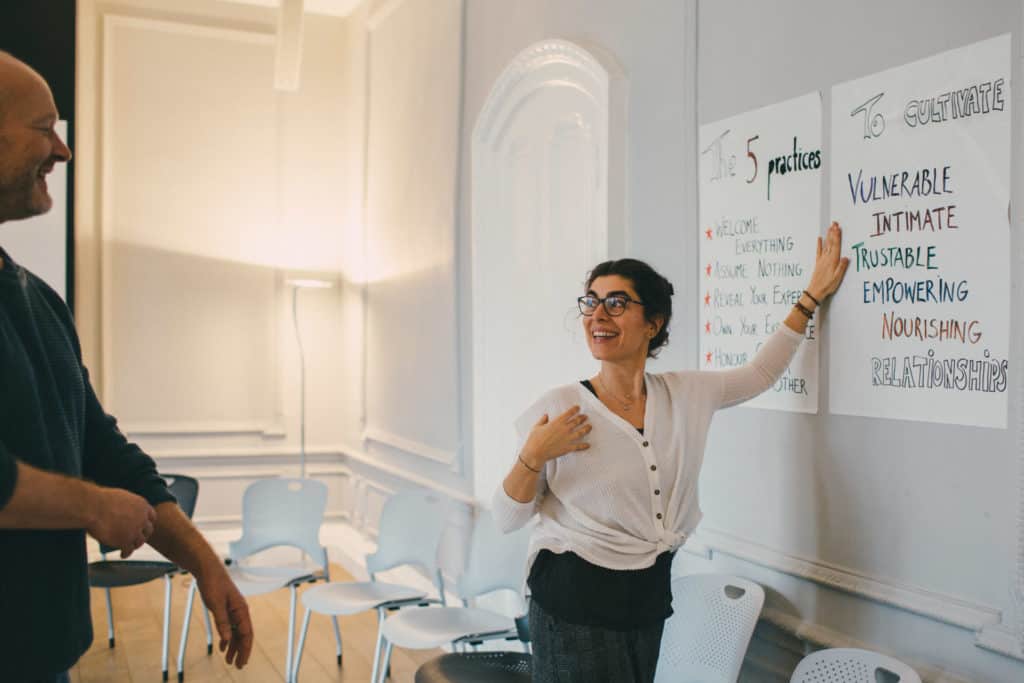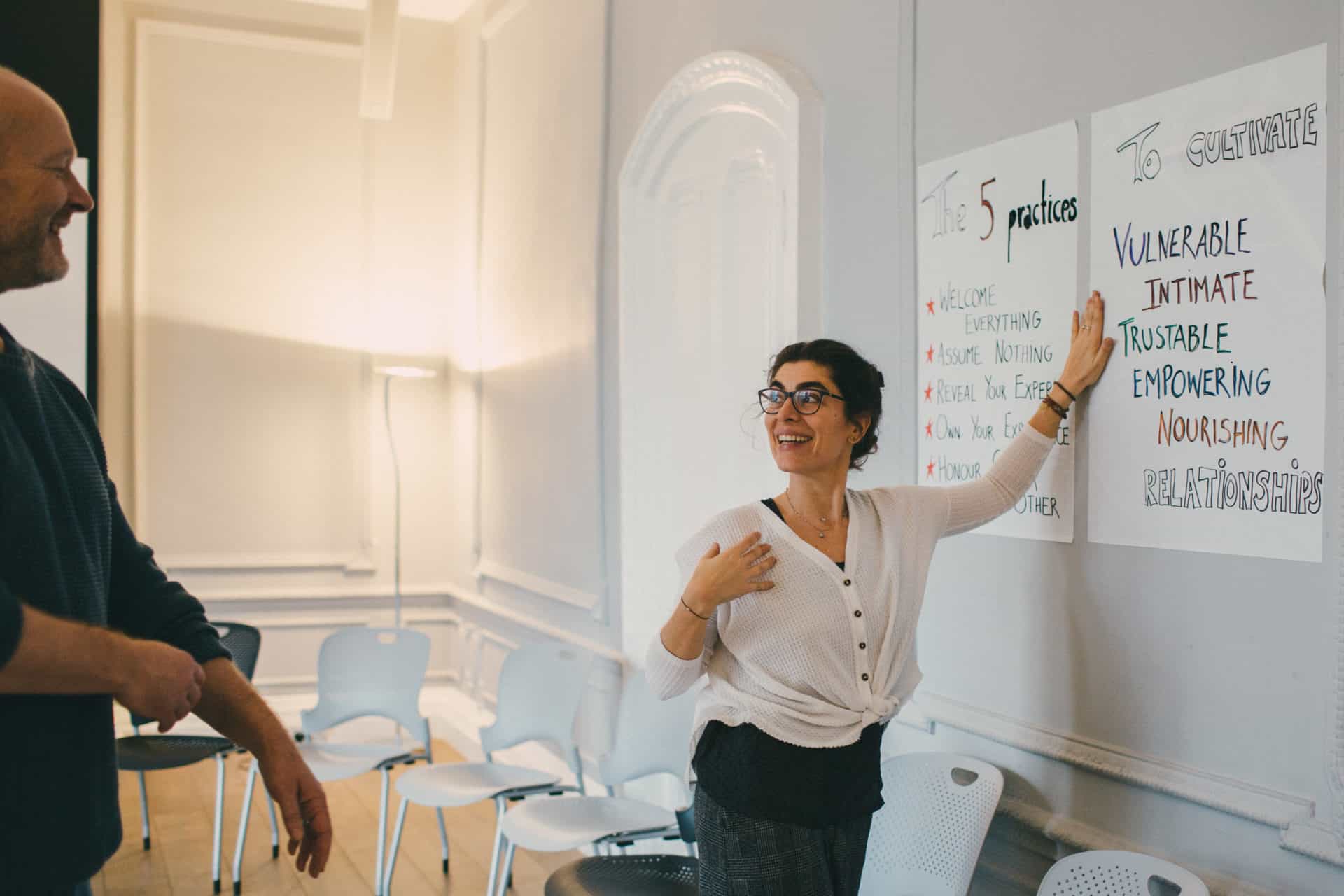 Welcome to Level 4: Facilitator Certification
The Level 4 – Authentic Relating Certified Facilitator program is designed for emerging leaders who want to become a living transmission of authentic relating and guide others in deeply meaningful group experiences. 
Our curriculum is designed to prepare you for the many facets of working professionally as a Facilitator of Authentic Relating. When you graduate from this program, you will have the confidence and know-how to design your own events and lead groups through transformative experiences that facilitate deeper connection and wholeness.
What does it mean to be certified as an authentic relating certified facilitator with art?
Our certification process is rigorous and our certification standards are among the highest in the world of AR, meaning you will be highly qualified and globally recognized to teach your own AR programs. 
There currently doesn't exist an industry-wide recognizable standard of competence in the world of AR; the AR-CF seeks to establish such standards that are recognized and trusted throughout the industry and beyond.
After you pass your certification evaluation, you will be added to our website as an Authentic Relating Certified Facilitator and graduate of our Level 4 program.
Curriculum and Training Requirements
In order to certify you with a high standard of competence to lead AR events, courses and programs, we will provide you with extensive training and opportunities to practice. This is an experiential training in a small group setting, as we have found that getting in the arena is the best way to learn and grow as a facilitator. The majority of  the training modules will occur as live sessions with some occasional pre-recorded videos in place of, or in addition to, the live sessions. All of the sessions are recorded so you can review the material as much as you'd like.
The training modules of the program include:
Foundations of Facilitation
Learn essential leadership and facilitation skills and perspectives to anchor you in your seat as a facilitator of authentic relating, including insights into tracking group dynamics, balancing structure and aliveness, and the art of receiving feedback. 
Learn to design powerful authentic relating events, workshops and experiences for groups of all sizes. 
ART Core Concepts and Training for Facilitators
We break down the foundational AR teachings and practices of the ART curriculum and provide you with extensive opportunities to practice your teaching and facilitation of the material.

The ART of Facilitating Group Shares + Circling Training
We provide the building blocks of excellent group facilitation using the 7 Skills of Facilitation and the fundamentals of Circling, a practice we've found to be extremely effective in learning how to facilitate group shares.
Explore the issues and ethics of positions of power and how to navigate dynamics that inevitably arise as a leader and facilitator of this work.
Trauma-Informed Leadership and Facilitation
Learn how to approach your facilitation from a trauma-informed perspective and how to work with trauma when it arises in the room.
Mentorship & Authentic Relating Inspired Coaching
Learn the What, How and Why for the ART mentoring model as well as core principles for authentic-relating infused coaching for one-on-one work with participants/clients.
Learn the foundations of business in the realm of authentic relating, including practical know-how to plan, market and promote your events and offerings.
Self Care and Re-Sourcing for Leaders
Facilitating this work well requires a lot from us. Learn essential skills and techniques for resourcing yourself so you may thrive as a leader of this work.
Learn the skills of online facilitation and tips and tricks for online event success.
In-Person Event Facilitation
Learn the nuances of in-person event facilitation and how to prepare for the diverse challenges you may encounter in these formats.
Additional Educational Resources
ART Leadership Continuing Education Presentations
Attend monthly Leadership Continuing Education Series for ART Course Leaders and Level 4 participants to explore topics that support your personal and professional development.
ART Leadership Library of Resources
Access our vast Leadership Resource Library to expand your skills and knowledge of all facets of authentic relating, leadership and facilitation modules.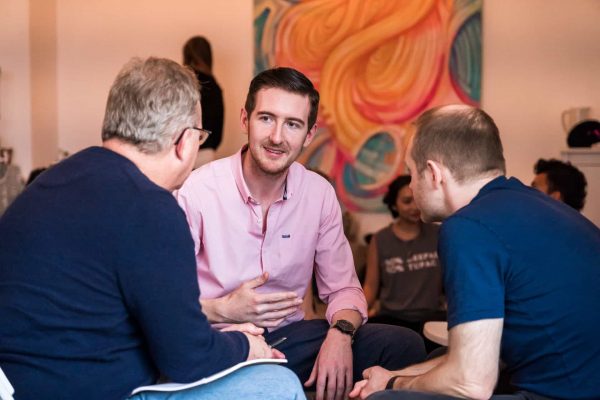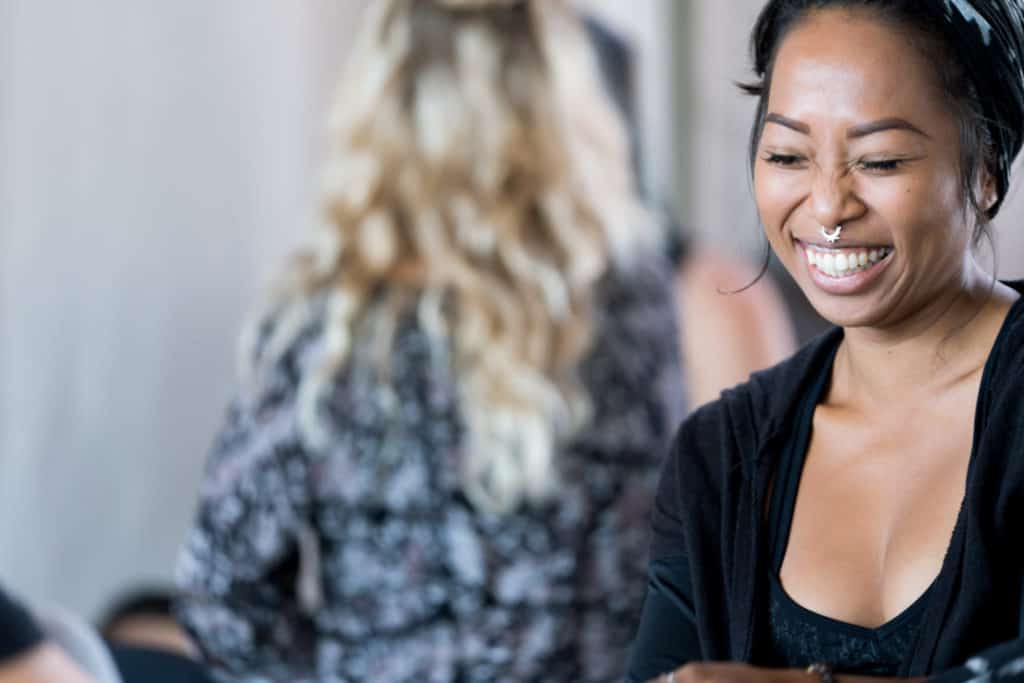 Core Practice Requirements
Practice is a critical component of your L4 training. It is through practice that you hone your skills, meet your edges, and improve your facilitation.

Facilitation Practice Requirements – 50 Hours
To be eligible for certification you are required to complete a minimum of 50 hours of facilitation. Options to fulfill this requirement include:
Facilitate 6 ART Community Circles (once a month for 6 months)
Facilitate a 6 Week Series
Facilitate Outside of ART
Facilitate within the L4 Cohort
One-on-One Mentoring/Coaching Requirements – 10 Hours
An ART Certified Facilitator has the skill and capacity to meet people in a one-on-one setting. Options to Fulfill this Requirement include:
Mentor for ART at the Authentic Leadership Program and Level 3 (see Advanced Practice Opportunities below)

Mentor/Coach outside of ART



Weekly Curriculum Training Sessions
In these 2.5 hour weekly sessions led by our L4 faculty you will join with your cohort to train in the many elements of the ART of Facilitation.
In these small group "pods" of 3-4 colleagues, practice facilitate and integrate the material we've explored in the training sessions.
MENTORING CALLS WITH SENIOR COURSE LEADERS
In these one-on-one mentoring sessions you will receive support and feedback regarding your facilitation and any challenges and edges you are experiencing.
Once completing the 6 months of curriculum training sessions you will be invited to join our once-monthly L4 Gathering Calls where the entire L4 community comes together with Senior Course Leaders to connect, practice, ask questions and dive deeper into leadership and facilitation topics.
Advanced Practice Opportunities at ART Courses
These optional practice opportunities are highly encourages, but not required for graduation.
Apprentice at Level 1 Courses as Course Leader Support
Apprentice at our Level 1 course either online or in person as a part of the support staff to directly experience the core aspects of leading public groups of participants.
Assist at Level 1 Courses as Course Leader Support
Join a Level 1 course as an Assistant Course Leader (ACL) where you will teach a portion of the course material and work side by side with the Course Leader (CL) to develop course plans and meet participant needs. (BY APPLICATION ONLY)
Mentor at the Authentic Leader Program (ALP)
As a mentor you will lead a small group of participants and offer intimate guidance to support them on their personal journey of leadership. In addition to your mentoring, you will also engage the curriculum of the ALP to refine your own leadership and facilitation skills and emergent offerings. (BY APPLICATION ONLY)
Advanced Mentorship Experience at a Level 3 Leadership Course
In these eight day residential programs you will live onsite with participants and Course Leaders and immerse yourself in the community of emerging authentic relating leaders. You will attend staff only sessions and be mentored by Senior Course Leaders while at the same time you mentor a small group of participants on their emergent leadership journey. Please note, this advanced practice opportunity requires an additional fee to cover your accommodations and food for this eight day experience. (BY APPLICATION ONLY)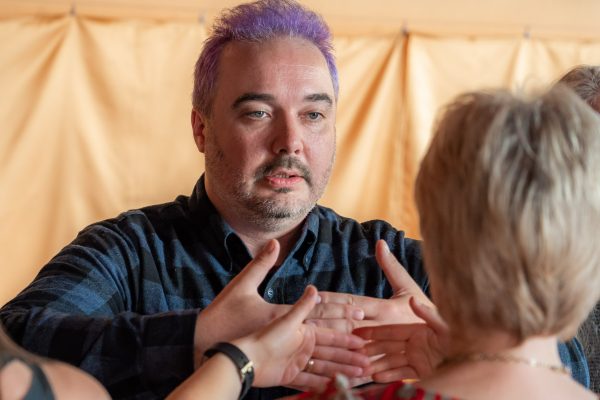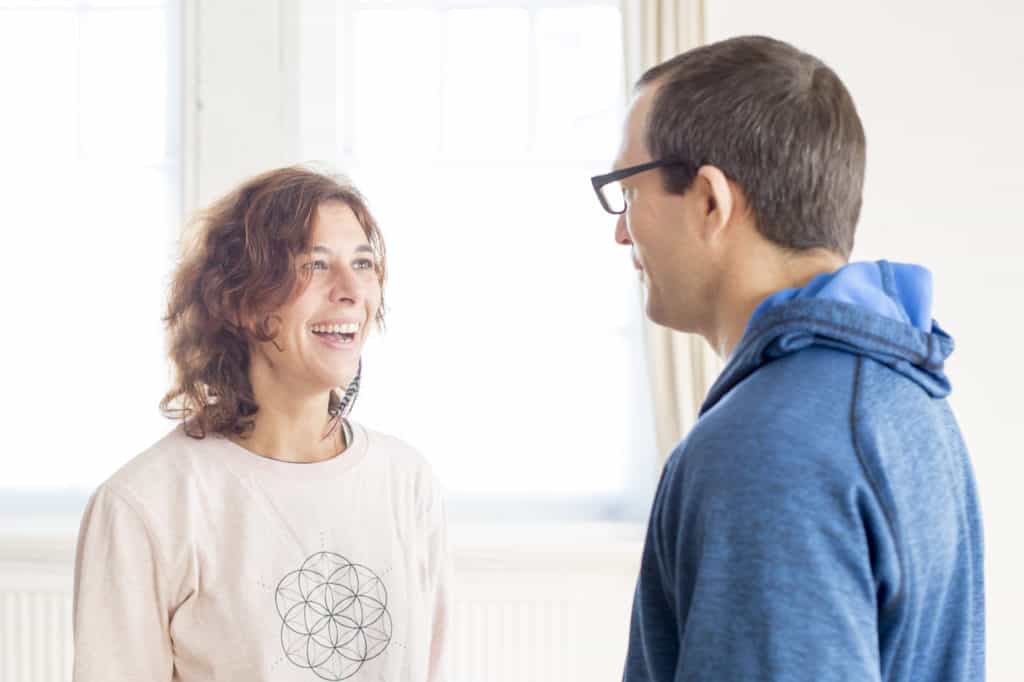 Final Evaluation for Certification
We take great pride in training and graduating facilitators and leaders who are the best in their field and are capable of representing both the practice and spirit of authentic relating to the highest degree of excellence and integrity. 
For your final certification evaluation you'll be offering an authentic relating session that includes a blend of Level 1 curriculum and your own material. 
Senior Course Leaders evaluate your facilitation based on objective and subjective criteria that uphold a high standard of facilitation excellence. If you do not pass the first time, we provide you with extensive feedback to support your ongoing development.
*additional costs may apply if you choose to be a mentor (optional)
Apply for the Level 4: Facilitator Certification
Certified Facilitator Program
Schedule an Exploratory Call with an ART Level 4 Trainer
If you aren't quite sure that you're ready to apply or you just have some questions and want to learn a little more about the program, this is a great place to start! 
Fill out this short form to express interest in the program and one of our course leaders will be in touch with you soon, Together, you can explore whether this program is a good fit for you. We look forward to connecting with you!