ART International offers life-changing courses that empower you to be more alive, awake and aware in all your relationships – with self, other, and the world.
Night is falling here in Boulder, on this warm spring day in early April. The last spots of snow are melting in the foothills, and it feels like everyone is leaning into the freedom of impending summer. I'm about ten days out from joining my bro and ART co-pilot Jason Digges in Bali to lead a series of our courses in Ubud – including our first ever Leadership Training Program at the end of April – and using the time to reflect on ART's journey so far and yet to come.
It's been a jam-packed start to the year, and the company feels like it's really hitting it's stride (along with the expected bumps of startup world). I said to Jason the other day, this thing feels like it's bigger than us now, and he agreed… we're as much on this ride as any of our participants and clients, venturing into the unknown and charting the uncharted.
It's been super exciting and exhilarating watching our little baby grow and mature, and expanding to include more and more people into a real sense of a global family and community. We've long had a real trust of how vital this work is in the world, and it's been incredible watching it unfold through the vehicle we are diligently building for it.
Here are some highlights – past and upcoming – in ART world, as well as a few links to some cool stuff here and there. Hope you enjoy!
---
ART News
SOLD-OUT COURSE IN SEATTLE!
We delivered our first-ever sold-out course in Seattle last month to an absolutely fantastic crew of participants who opened their hearts, listened and connected with each other deeply, and joined together on a joyride deep into authentic relating territory (that's us in the photo at the top of the email).
Huge thanks to our partners in Seattle who co-produced this event – Chris Gray (who also provided his beautiful apartment as the venue), Sandi Fanning, Randy DesRoscher, and Source Team Lead Jamie Grant. You guys rocked it!
We're thrilled to come back to Seattle in August to deliver both our Level 1 and Level 2 courses, and will be making announcements closer to the date.
FIRST-EVER AR COURSE IN A CORRECTIONAL FACILITY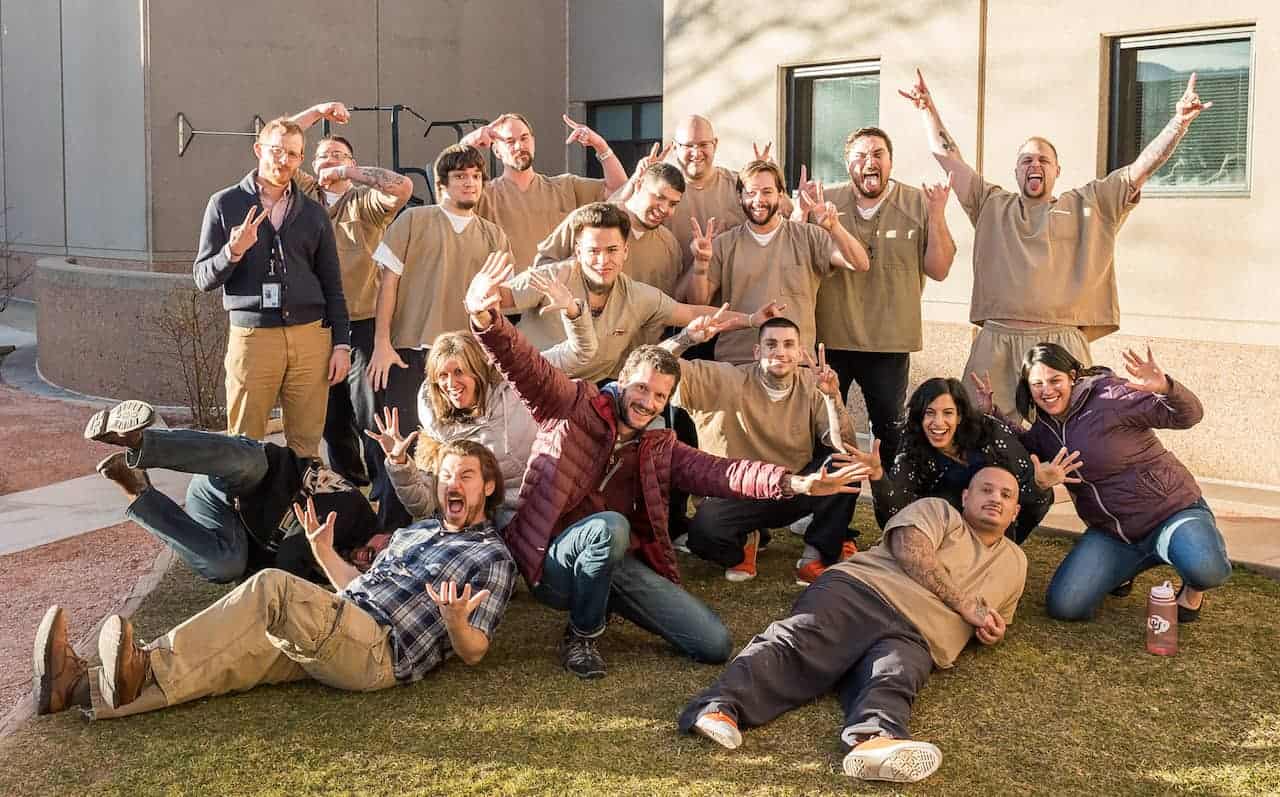 It took a lot of hoop-jumping and diligent preparation but we were finally able to deliver the first-ever authentic relating course in a correctional facility when we delivered our Level 1 course to a dozen inmates at the Boulder County Jail recently.
It was an absolutely life-changing experience for all of us involved, and I was blown away by how these guys opened up and shared from their hearts. It was also incredible to see how truly transformational these tools and practices are across the spectrum of the human condition. These guys picked up authentic relating like they were born to do it (which we believe we all are!).
Lots more to share about this epic weekend, including testimonials from the inmates themselves, all of which you can read out about here.
NEW HIRES AT ART
The ART family is expanding! The needs of the company to continue meeting growing demand have exceeded what Jason and I can handle, so we're very excited to welcome Jamie Grant as our Operations Manager, Laurie Lazar as our Jails and Prisons Director, and Jahmaya Kessler as our Jails and Prisons Programs Specialist.
You can read more about these extraordinary people here.
WE LAUNCH THE LEADERSHIP TRAINING PROGRAM
We didn't intend to design and offer a leadership training until next year, but we've received enough demand from graduates of our Level 1 and Level 2 courses who want to go further into the practice that we were compelled to produce this course in time to offer it this spring.
We wanted to design and offer a course that could produce the most powerful and sustainable transformation in Authentic Relating leadership in the most efficient and effective way possible, and in this 5-day journey we believe we've accomplished our goal.
The first-ever LTP will be delivered in Bali, April 25th to 29th. You can read more about the program here.
COACHING AND CONSULTING SERVICES
We've been informally offering ourselves as coaches for individuals, couples and families, and consultants for companies and executives, but we've now formalized our services and are excited to build up these services as a major part of our expanding business.
We've found that individualized coaching and consulting is the most effective way to integrate Authentic Relating into one's life or organization, and we've designed some groundbreaking innovations in our coaching and consulting that are producing clear, powerful results in the lives of our clients.
You can read more about our coaching and consulting services here.
---
ART Upcoming Courses
THE ART TRAIN IS HEADED TO BALI / BRISBANE / BOULDER / MAUI / SEATTLE / EUROPE
We've got an increasingly full schedule as we head into spring and summer that will have us traveling the globe delivering our work to a network of conscious communities.
First up, we head back to Bali to lead all three of our courses back-to-back, including our first-ever Leadership Training Program.
After Bali, Jason and I go our separate ways to lead concurrent courses in Australia, Hawaii, and back in the US, before we reconvene in Europe to both lead ART courses and be on the facilitation team for Ecstatic Awakening in Spain in July.
Here's the full schedule:
April 13 to 15: Ubud, Bali – Level 1
April 20 to 22: Ubud, Bali – Level 2
April 25 to 29: Budu, Bali – Leadership Training Program
May 19 to 20: Brisbane, Australia – Level 1
May 19 to 20: Boulder, CO – Level 1 (invite only)
June 1 to 3: Maui, HI – Level 1
July 18 to 25: Spain – Ecstatic Awakening
August (dates tbd): Boulder (open to public) & Seattle
Go here for more info on our courses and to register for a course.
---
Authentic Relating Videos, Posts, and Links
RYEL ON THE WISDOM OF FRIENDS PODCAST
The Wisdom of Friends is Kal Aras's podcast and is one of the top 5 self-help podcasts on iTunes. Kal was a participant at the Seattle Level 1 course and invited me on his show based on his transformational experience at the course.
We had a wonderful conversation that covered my journey through the world of Authentic Relating, how to apply AR in the workplace, some easy practices for people to use in their lives right away, and what gets in the way of connection.
You can listen to the full podcast here.
WHAT IS AUTHENTIC RELATING? VIDEO FROM SEATTLE LEVEL 1 COURSE
Here's a quick clip of one of the ways we describe Authentic Relating to participants at the beginning of our Level 1 course. We're actually currently working on fleshing out a more formal and comprehensive response to the question of What is Authentic Relating, but this captures the essence of it.
THE TOP 20 MOST INFLUENTIAL AND LIFE-CHANGING BOOKS OF ALL TIME
I'm constantly exchanging book recommendations among my friends, teachers, and clients, and I wanted to put a list together of the books that seem to get mentioned more than others as particularly insightful and impactful.
With this in mind, I recently conducted an informal (and obviously limited) survey on Facebook to crowdsource a list of the most influential and life-changing books of all time among my network of online friends and friends of friends. A total of 181 books were recommended by about 150 people from a diverse range of backgrounds and interests, with 43 books garnering multiple votes.
Read the results here.
OTHER COOL LINKS
The world is becoming more inauthentic, says the guy who predicted the fake news crisis. Mooji reminds us about the pile of shit our minds serve us. Offline dating! How refreshing. Stanford professor Robert Sapolsky, the author of the extraordinary book Behave, gives a fascinating talk on human behavioral biology (and in his own way talks about our Undamning teaching).
---
Quotes of the Month
"I don't like that man. I must get to know him better."
– Abraham Lincoln
"Happiness is the absence of the striving for happiness."
– Chuang-Tzu
"The only true voyage would be not to travel through a hundred different lands with the same pair of eyes, but to see the same land through a hundred different pairs of eyes." – Marcel Proust
---
Recent Testimonials
"The content and exercises in this course are completely transformational. I grew so much in two days. It sneaks by as a workshop, but it's so much more. It opens the door for massive healing, awakening, breaking patterns, and energy shifting as we have the opportunity to take action in midst of our deepest fears when it comes to relating and being seen. I highly recommend this course for every human."
— Elizabeth Blue, Bali
"This workshop on authentic relating has changed my entire view of my identity in a matter of two days. All the masks I used to wear have been stripped away and I have found myself for what feels like the first time. My heart feels so open to accept everyone in my life without judgment. I have found brothers and sisters who see me for who I am. I never thought I could feel so connected, so free, so alive while being locked away in jail. My life has completely changed. Thank you for this opportunity."
— Nick, Boulder County Jail
"I really loved being here! The information and practices were well thought-out and resonated as truths for me. I really got the sense that the facilitators have done a lot of their own work and use these practices in their daily lives. Their energy was grounded, strong, loving, and gently fierce when it needed to be. This is not just another "self-help" course with a lot of bullshit I will never use again. I can and will be using the practices immediately in my own life – they have opened my mind and heart."
— Nicki, Seattle
"I loved the facilitator's delivery of the material – complete, competent, insightful, grounded, genuine, calm, approachable, and heartfelt. Overall, the workshop brought me countless insights, connections, and ear-to-ear smiles that I will treasure forever."
— Anonymous, Seattle